Virtual Reception Services
Create a professional reception for your customers and clients with Amundson & Amundson virtual reception services. A full frontline solution, the virtual reception service offers everything from answering calls in your company name through to making bookings and delivering messages – our professional team will ensure your business never misses a call again!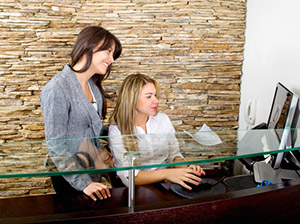 Does your company not need a receptionist? Is your receptionist only part-time? Pass your reception services over to Amundson & Amundson for 24/7 care. We can handle as much or as little of your reception traffic as you like: with our virtual reception services, your customers will experience seamless frontline care with your company persona and protocols in place. Save time, save money, and ensure each and every one of your customers receives unparalleled care and full frontline service with the Amundson & Amundson virtual reception team.
Our experienced and highly trained staff will:
Answer all calls in your company name
Transfer callers to existing on- or offsite staff
Make bookings for meetings, call-backs, appointments and more
Send messages via email or SMS text
Every member of our team will act in accordance with your company's best-practise protocols; ensuring your customers are greeted with an experienced and professional reception service.